Stay connected, find things to laugh at, it is good for the soul- Interview with Caroline Rush
Auli Conversations
Auli talks with Caroline Rush CBE, CEO British Fashion Council on staying positive, adjusting to new routine and finding ways to navigate through current challenging times.
"It is important to stay connected. Speak to friends and family more than you usually would. It will be difficult over the coming months, but find things to laugh at, it is good for the soul"
Caroline Rush is the CEO of British Fashion Council (BFC), one of the most influential people in the British and global fashion industry. She is the key figure navigating British fashion industry through this challenging time. She has been the driving force behind bringing big fashion players back to London fashion scene as well as encouraged and championed emerging talent and innovation.
Caroline has played a key role in bringing digital revolution to fashion industry, established London fashion week as one of the most coveted big 4 fashion weeks, and propelled growth of British fashion industry as a key global player. She also overseas reputable 'The Fashion Awards' one of the highest orders of award ceremonies in fashion industry. Who else could've brought the Queen to London Fashion Week? Of course, It was Caroline who brought her to the first row of the fashion week.
Auli has exclusively caught up with Caroline to find out what it means to stay positive and connected amidst uncertainty and difficulty of current challenges of life under Covid 19.
What is your typical daily routine and how it is affected by the current outbreak, if you could give a brief idea?
My daily routine would usually involve getting up around 6.30am, doing some exercise if I didn't have an early breakfast meeting, then heading to a day of back to back meetings. Every day was different. The evenings were filled with events and social engagements.
As of Tuesday, I still wake up around 6am, (I got a puppy on Tuesday evening so sometimes earlier), make breakfast, then tackle the outstanding emails from the day before and get ready for conference calls.
We have been having senior team conference calls every morning while we get in a new rhythm, make sure the team is OK, projects are on track and brainstorm how we address the challenges ahead of us. On Thursday we did a Microsoft Teams meeting with the whole office to update them on what we are doing to support businesses and to make sure they are OK.
The other conference calls have been with government, creative industries groups, retailers, sales agents and other groups to collectively get a view on what the next few months might look like and how best to advise designer businesses in these challenging times. My team have been doing the same. This week has been about collecting as much data and information as possible.
5pm daily we stop to watch the Prime Minister's press conference and then digest, interrogate what that meansfor the fashion industry, so we are ready to communicate the next day.
How do you make use of your time at home? What are the top tips for being productive working from home when we are asked to stay at home?
So far the days have been very long. This week I hope to get back to a routine of exercising and hope to catch up on some of the documentaries and box sets that have been on my list for months. I think it is important to make sure that we exercise our minds and bodies beyond work priorities.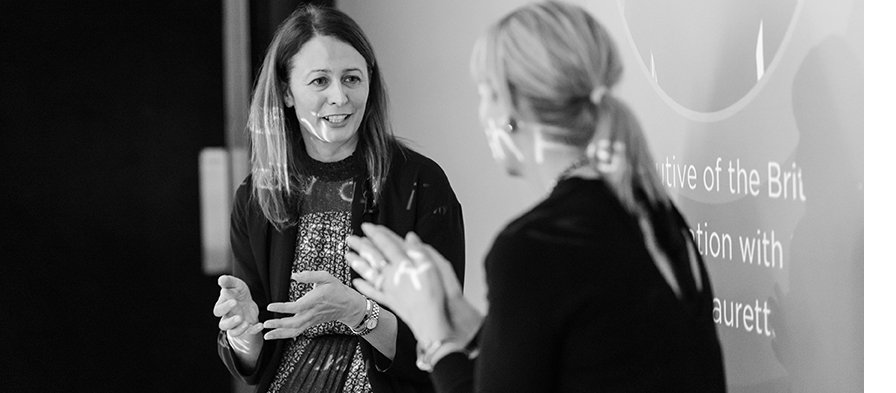 There is so much uncertainty, what do you recommend staying positive?
It is important to stay connected. Speak to friends and family more than you usually would. It will be difficult over the coming months, but find things to laugh at, it is good for the soul.
Reach out to those you think might be struggling, neighbours, work colleagues as well as friends. Get up and get dressed for work, whatever your usual work dress code is. It will help define the time you are working and the time you are resting. It will make you feel like you are getting ready for your day, whatever the challenges might hold.
Ruby, the puppy, is also a definite plus.
How can we connect or be helpful to others in the community while practicing social distancing?
We are already seeing extraordinary acts of kindness. You will feel much better and more positive if you are doing something positive, whether that is for friends, family, industry or community.
What is your advice to British businesses and consumers so they can support each other?
We have a page on the British Fashion Council website that is sharing updates from government. Businesses that connect people are looking at ways in which they can support. I am involved with a platform called LOCA and we have made a call to offer the next few months free for businesses and delay all subscription renewals as we know there is an active community that can and will support businesses.
I am hearing from others that they are looking at similar. Consumers, please support brands where you can. At this time, it isn't just buying product you love, but you will be playing a vital role in keeping that business going for the future and the teams there employed.
Our way of life has slowed down significantly, is there any silver lining?
Although COVID-19 may feel like it has brought us to a stand-still, we needed to address our impact on the planet urgently. My hope is that through what feels like a challenging and unsettling time, the decisions and choices we make now, will set us up for addressing climate change in a more effective way and with more urgency.
Do you read books? Any recommendations?
I normally have a fiction and non-fiction book on the go. I've just started Eleanor Oliphant is Completely Fine by Gail Honeyman and am part way through Becoming by Michelle Obama. However daily reads are Puppy Training books and blogs.