Eating well with Amelia Freer: Food, nutrition and beyond.
We chat to the lovely Amelia Freer (FdSc, Dip ION), one of the UK's most respected nutritional therapists and healthy eating experts. She has headed a thriving private clinic in London for over a decade and has helped thousands to achieve a happier, healthier life. She is an international best-selling author, debuting with the inspirational Eat. Nourish. Glow., now translated into many languages. Amelia's fourth book, Simply Good for You, was released in Dec 2019. Amelia discusses basic diet changes we can incorporate into our daily lives to feel better, how the pandemic has changed people's relationship with food and ways we can get more connected to the food on our plate. ⁠
"I like to think of wellness as individual, vibrant health. What exactly that looks and feels like will be as varied as we are, but to me, it is a combination of consistent energy, minimal physical symptoms, restorative sleep, good mood and a general sense of stamina and resilience."
What does your job as a nutritional therapist entail?
No two days are the same, as I don't just work clinically anymore (although I do love still seeing a few clients during the week). My tiny team and I also produce a monthly newsletter, maintain a free website (with lots of recipes and articles), run events, retreats and talks, work collaboratively with a few brands and charities, produce social media content, keep up-to-date with nutritional research and answer lots and lots of emails. It's really varied and I love what I do, but can certainly be a juggle with a 3-year old to look after as well.
How did your journey towards becoming interested in nutrition start?
In my late twenties and early thirties, I was experiencing a wide range of health complaints and symptoms. After trying various different treatments without much success, my flat mate at the time suggested it might be worth thinking about my diet. I eventually took myself off to see a nutritionist, and very rapidly began to feel and see the results of some very simple changes. It sparked a passion for understanding how the food we choose interacts with our physiology and psychology. Soon after, I quit my job and spent 4 years training in Nutritional Therapy. I have been practicing and learning ever since (which is now about 15 years).
What does the word wellness mean to you? How do we know if we are currently unwell?
I like to think of wellness as individual, vibrant health. What exactly that looks and feels like will be as varied as we are, but to me, it is a combination of consistent energy, minimal physical symptoms, restorative sleep, good mood and a general sense of stamina and resilience. Of course, it's important to seek appropriate medical advice if we are not feeling well or experiencing any changes in symptoms. Wellness is certainly not a replacement for medical care.
How are the stressors of modern day life impacting our current day-to-day health?
I think that being constantly available, and expected to respond to texts, emails and other communications as quickly as possible (even if they come late at night or over holidays and weekends) means that we never quite get the opportunity to switch off properly and just be present either. That background level of stress, alongside the
lack of social support and connection so many of us have felt over the past year, can be really exhausting. A useful tip is to switch off your computer and phone at a set time every evening, and leave it off until a set time in the morning (even if just once a week). It's been a game-changer for me in recent months.
Do you think the pandemic has impacted people's relationship with food? And if so, how?
Positively, I think it has encouraged many more of us to cook from scratch and embrace the benefits of quick, nourishing home cooking. I do know, however, that this can become repetitive after a while, so having the option of a few meals out is certainly lovely again. But generally increasing the number of meals we make for ourselves can help save money, reduce food waste and support a more balanced diet.
What are some basic changes or swaps that everyone can make in their diet to live and feel healthier?
There really is no 'one-size-fits-all' when it comes to diet, so even though some of the key basics like eating plenty of vegetables, having a portion of protein at each of our three meals a day, and drinking enough water are generally sensible for the vast majority, it really is a case of listening to our own body and making small adjustments until we find a diet that really works well for us. I wrote about how to do this comprehensively in my third book, Nourish & Glow: The 10-day Plan.
What are some ways in which we can feel more connected to the food on our plate if you live in major cities where access to fresh food isn't always as easy?
There are plenty of ways! I lived in London for the majority of my life and I still felt connected to my food. I'd suggest the first step would be to familiarise yourself with the food seasons: http://www.eattheseasons.co.uk/ is my go-to website for this. Then it's easier to start making conscious choices to buy foods – whether at the grocer, supermarket, farmers market or corner shop – that are in season. Seasonal food tends to be cheaper and taste better, alongside ensuring we get plentiful variety into our diets. Another alternative is to arrange a weekly vegetable box and food staples (milk, eggs, bread etc.) delivery – many companies deliver across the UK and to all major cities. Finally, try to keep an eye out for any local farmer's markets – they are a great way to see what's growing and try a few
new ingredients. And if you're feeling really keen, you could even try growing a few windowsill herbs to add punch to your dishes.
How do you wind down at the end of the day?
Almost always with a bath, sometimes a face mask, my phone switched off and a few pages of a good book.
Is there a special or new recipe that you could share with us?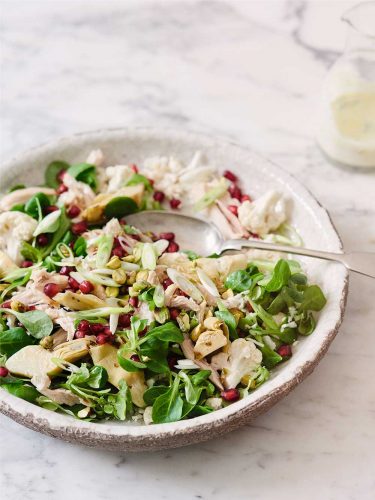 This Chicken, Cauliflower and Pistachio salad is a brilliant way to use up leftover chicken and reinvent it into a quick, vibrant and delicious lunch dish. It comes from my latest book, Simply Good For You, a collection over 100 recipes that are all quick to prepare, use simple ingredients, are packed with flavour and are balanced and nourishing. No compromise required.